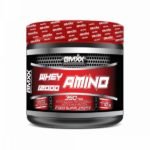 BMXX – Whey Amino 12000 Tablets – Rapid absorbing protein formula
Please login to see price.
Description
Reviews (0)
Nutrition
Description
WHEY AMINO 12000  
BODYMAXX's WHEY AMINOS 12000 is a High protein containing foodstuff. It is  produced by the highest quality  Hydrolyzed milk protein and  Isolate whey protein providing the body with the highest possible amount of amino acids.
Pack: 350 tablets
Container Size: 770g
Serving Size: 4 Tablets
Servings Per Container: 350 Tablets
Amount Per Serving:
Total Calories: 36Kcal
Protein: 5.9g
Total Carbohydrates: 2.5g
   -Sugars: 0g
Total Fat: 0g
   -Saturates: 0g
Salt: 0g
Ingredients:
Hydrolyzed Milk Protein Isolate
Whey Protein Isolate
Sweetener (Sorbitol)
Anti-caking agent (Talc, Magnesium stearate)
Raising agent (Tricalcium phosphate)