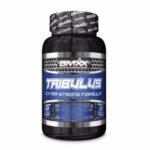 BMXX – TRIBULUS | 60 tabs
Please login to see price.
Description
TRIBULUS by BMXX
TRIBULUS by BMXX is a speciallised formula designed to help enhance intense muscular effort, especially for athletes.
Potential Effects of Tribulus Terrestris
Tribulus terrestris is a plant that has been used for a variety of potential health benefits for many years.* It is popular as a general health supplement and as an ingredient in testosterone booster supplements. Although people often take Tribulus terrestris for its potential effects on testosterone, it has also been studied for other important effects. Some researchers found that when men with reduced sex drives consumed 750–1,500 mg of Tribulus terrestris daily for two months, their sexual desire increased by 79% (4, 9).
Saponins in Tribulus Terrestris
Saponins are chemical compounds in Tribulus terrestris, and they are thought to be responsible for its health benefits. The percentage of saponins refers to the amount of the supplement that is made up of these compounds.
In addition to the potential health effects discussed already, Tribulus terrestris may have several other effects in the body:
Fluid balance: This plant may act as a diuretic and increase urine production (16).
Immune system: Immune system activity in rats has been shown to increase when they are given this supplement (17).
The brain: As part of a multi-ingredient supplement, Tribulus terrestris may have antidepressant effects in mice (18).
Inflammation: A test-tube study showed possible anti-inflammatory effects (19).
Pain relief: High doses of this supplement may provide pain relief in rats (20).
Cancer: Test-tube research has shown a possible anti-cancer effect of Tribulus terrestris (21).
TRIBULUS by BMXX is a speciallised formula designed to help enhance intense muscular effort, especially for athletes.Each serving provides 2000mg Tribulus with 30% saponins.
*source: www.healthline.com/nutrition/tribulus-terrestris Retrieved Nov. 2018
Suggested Use: As a food supplement take 1 tablet daily  with meal  with a glass of water, preferably in the morning. For best results, on  the  training days consume one more tablet 30min before beggining activity.
Serving Size: 1 tablet-maximum 2 tablets daily
Packaging: 60 tabs / 20 servings

| Nutritional Value | /1tabs | /2tabs |
| --- | --- | --- |
| Tribulus Terrestris Extract (100% fruit) | 2000mg | 4000mg |
|       30% Saponins | 600mg | 1200mg |
All BMXX products are manufactured in HACCP, GMP and HALAL certified plants.
All BMXX products are registered at the EU Health Authorities.