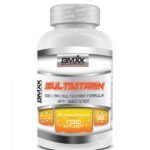 BMXX SPORTSA MULTIVITAMIN 120Caps
Please login to see price.
Description
BMXX's MULTIVITAMIN dietary supplement contains 12 vitamins and 6 minerals that cover the recommended  daily dosage in one -only-tablet
Suggested Use: As a food supplement , take 1 tablet daily with a plenty of water. For maximum benefits, consume everyday.
NUTRITIONAL VALUE
INGREDIENTS