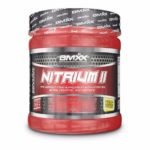 BMXX – NITRIUM II | Pre Workout Nitric Acid Fromula | 280g
Please login to see price.
Description
Additional information
Reviews (0)
Description
NITRIUM II by Bodymaxx Sports Nutrition
NITRIUM II is one of the top quality pre-workout supplements with B3 Vitamin, BCAA's, Creatine and Caffeine.
BODYMAXX brings to the market the ultimate pre-workout drink that offers a spectacularly superior workout experience with ultra-high energy reserves. Diligently selected ingredients have been used in the appropriate doses to help boost athletic performance to new heights.
The Ultimate Pre-Workout Formula NITRIUM II is a sport supplement contains an innovative targeted combination of highly potent "smart stimulants", energy boosters, nitric oxide precursors, performance enhancers and muscle power activators that make it the ideal pre-training formula!
It is NO's effect on blood flow and energy metabolism that has made it of interest as a sports supplement. Improvements in blood flow and energy metabolism have the potential to improve endurance performance and for those who like to lift weights, NO might increase blood flow to the muscles, which not only gives muscle 'pump' but it has also been suggested this extra delivery of blood may support muscle recovery and growth. It is unsurprising then that many pre-workout supplements aim to boost NO for these potential benefits.
NITRIUM's "smart stimulants" matrix combines the stimulating action of Tyrosine, Beta-Alanine and caffeine with Siberian Ginseng and Taurine, putting you in the ideal pre-workout condition without any feelings of uneasiness or discomfort.
NITRIUM's proprietary mix allows for maximum benefits from both Creatine and Arginine, galvanizing your muscles, while offering long-lasting pumps and increased vascularity!
NITRIUM II is designed for power athletes, bodybuilders and all athletes who want to make every single workout explosive.
Ingredients:
Creatine Complex (Creatine Alpha Ketoglutarate, Micron Creatine Monohydrate, Buffered Creatine Monohydrate), Beta-Alanine, L-Leucine, CARBA MAX [Dextrose, Fructose, Palatinose TM(ISOMALTULOSE), Waxy Maize TM, Hydrolysed Whey Protein Isolate, L-Arginine, Taurine, L-Citrulline DL-Malate (1:1), L-Valine, AAKG Complex (L-Arginine, Alpha Ketoglutarate Calcium), Siberian Ginseng (Eleutherococcus Senticosus) Root Extract, Caffeine Anhydrous, L-Tyrosine, Bitter Orange (Citrus Aurantium) 100% Fruit Extract, Niacinamide,
WARNING: This products is not authorized in several EU markets because it contains a strong stimulant association of Caffeine and Citrus Aurantium (Synephrine).
Pack: 280 gr  | Lemon flavor
Serving Size: 2 scoops (14 g) –  Servings Per Container: 20
| Active Ingredients | /14g |  /100g |
| --- | --- | --- |
| BCAA 2:1:1 | 2000mg |   14,29g |
| L-Leucine,L-Valine,L-Isoleucine | | |
| L-Arginine | 1000mg |   7,14g |
| AAKG COMPLEX | 500mg |   3,57g |
| -L-Arginine | 328mg |   2,18g |
| -Alpha Ketoglutarate Calcium | 172mg |   1,15g |
| CREATINE COMPLEX | 2000mg |   14,29g |
| –Micronised creatine monohydrate | 840mg |   6g |
| –Buffered Creatine | 700mg |   5g |
| –Creatine AKG | 461mg |   3,29g |
| -of which Creatine | 1,6g |   11g |
| Beta-Alanine | 1500mg |   10,71g |
| L-Citrulline DL-Malate(1:1) | 800mg |   5,71g |
| Taurine | 1000mg |   7,14g |
| L-Tyrosine | 100mg |   714mg |
| Siberian Ginseng | 400mg |   2,86g |
| (Eleutherococcus Senticosus Root Extract) | | |
| Glycerol Monostearate | 200mg |   1429mg |
| Bitter Orange | 50mg |   0,4g |
| (Citrus Aurantium 100% Fruit Extract) | | |
| Caffeine Anhydrous | 200mg |   1429mg |
| Vitamin B3 | 40mg |   286mg |
All products are manufactured in HACCP, GMP and HALAL certified plants.